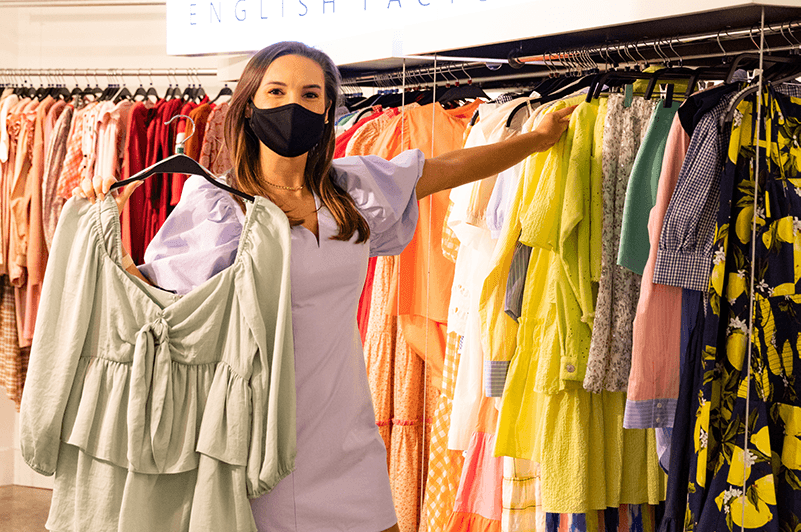 Atlanta Apparel Accelerates Recovery at First Market of 2021
Atlanta Apparel kicked off its 2021 trade show year with a return to historic traffic attendance levels and expansion of product offerings signaling robust recovery in the apparel and accessories sector. Retailer traffic at the February Atlanta Apparel Market, --- held February 2-6, 2021 at AmericasMart Atlanta – equaled that of January 2020 attendance with a record number of new and out-of-territory buyers. Exhibitors across the market – including Atlanta Apparel's largest-ever Young Contemporary offerings – reported record shows with healthy ordering by optimistic buyers.
"Atlanta Apparel is roaring into 2021!" said Caron Stover, International Market Centers (IMC) senior vice president of apparel leasing. "Buyers are optimistic about the future and confident in Atlanta Apparel's ability to deliver the market experience they need now."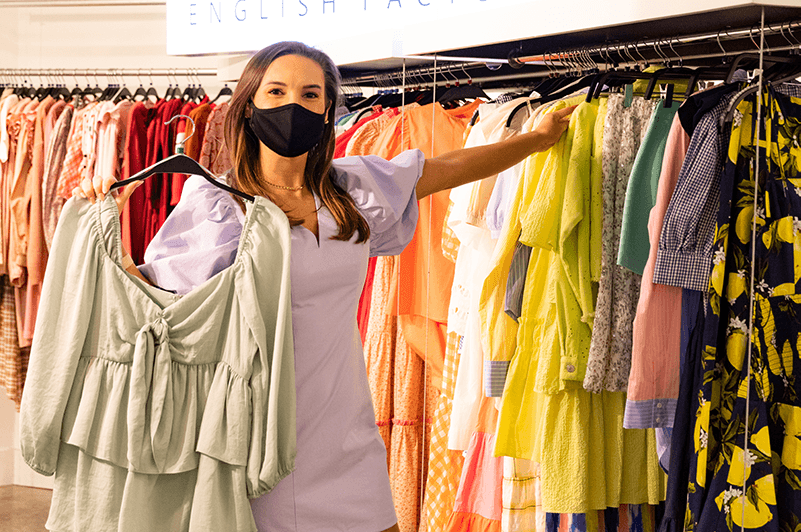 Spring / Summer 2021 styles at the February 2021 Atlanta Apparel Market
Enthusiasm from Buyers
The strong February Atlanta Apparel market is the culmination of more than six months of recovery for Atlanta Apparel during the pandemic, driven by the return of long-time marketgoers as well as first-time buyers, who made up 20% of the turnout. Attendees came to market from 46 states and 3 countries, and represented boutiques, online retailers and major multidoor organizations including a significant portion of Atlanta Apparel's top 100 buyers.
"Buyers who have never before visited are seeing Atlanta Apparel as a viable alternative to markets that are currently disrupted," added Stover. "We're honored to have the opportunity to show them the Atlanta Apparel difference and look forward to having them become loyal attendees."
"My first trip to Atlanta Apparel was the best experience I have ever had," said Pooja Cowing of Pooja's Boutique in Scituate, MA. "I found so many unique lines for my store and I am so excited to merchandise everything with all the accessories… Atlanta Apparel is going to be my buying destination for all seasons!"
Boutique owners were back at the market in full force. Ed Olvera of the Boutique Hub reported that more than 300 members checked in at the group's booth on the first day of market.
"It was a sea of Boutique Hub pink throughout the building," he noted of the members who wore branded Boutique Hub lanyards with buttons touting "my boutique survived the pandemic" and other uplifting phrases. "Our members are like family, so it is so wonderful that the Atlanta Apparel Market gave us the opportunity to see them in person."
Retailers took to social media to share their enthusiasm for being back at market. "Life must be returning because market feels more normal than it has in a year! Love seeing our vendor friends and fellow small business owners," Dara and Leah Buczynsky of Epiphany in Athens and Monroe, GA posted on Instagram.
Record Shows
The need for immediate goods and confidence in recovery drove strong order writing and resulted in record shows for apparel and accessory brands showing throughout the market's 300+ showrooms and 1,000+ temporaries.
"February has been my best Atlanta Apparel show to date. I opened accounts in the Midwest and West Coast and worked with buyers whom I usually see only in New York," said Athena Kratas, account executive for 7 For All Mankind. She reported that buyers were "optimistic for sure," placing orders for relaxed fit denim, cropped straight legs and "a good skinny jean" for fall deliveries.
The Young Contemporary collection – Atlanta Apparel's largest to date with some 160+ brands – was a major draw for buyers.
"This was our best show ever. We beat our previous best show on the first day of the market," said Kevin Kim, trade show manager for Mustard Seed, whose best sellers were denim and skirts, t-shirts and loungewear in tie-dye patterns. "The buyers were ready to buy as soon as they walked in the door: the show opened at 9 a.m. and we were at booth capacity by 9:05 a.m."
Shoes were especially strong with some 35+ temporaries and showrooms presenting a mix of spring / summer immediates and fall / winter introductions.
"Retailers were buying like a pandemic isn't happening," said Dale Michaelson, national sales manager for Chinese Laundry who sold lug-bottom boots, white boots, flat leather sandals and indoor/outdoor shoes to boutiques from Idaho, Iowa, New Mexico, North Dakota, South Dakota and Washington in addition to East Coast buyers. "They are the most optimistic that I have seen them in a year!"
In accessories – shown by some 140+ brands – buyers took advantage of immediate resources to offer merchandise to their customers while they were still at the market. Gary Fields, founder of Lost & Found Trading Co. observed retailers selling their at-market cash & carry purchases via Facebook Live, a trend also reported by other accessories brands.
"This was one of the best shows in the history of my brand," added Fields. "I met a lot of buyers I didn't know before COVID."
A noticeable energy was felt throughout the showroom floors.
"The building felt vibrant," said Veronica Burrous, owner of Milk & Honey Showroom which represents 14 women's lines. "The buyers love that feeling because it feels like business is getting done."
In children's, brands reported increased new buyers as retailers are sourcing now with hope for a more normal Back-to-School season in 2021.
"We heard from our customers – new and returning – that discovery was a major goal for this market," said Emily Peterson of Elisabeth Everly & Co., which represents 23 baby and children's lines. "They were committed to having time at market to explore the whole floor of offerings."
Expanded Digital Programming
Atlanta Apparel again expanded its virtual programming for the February market. Two full weeks of programming on Atlanta Apparel's IGTV prepared buyers for sourcing. The catalog of 18 trend and business videos garnered more than 26,000 views by the close of the market.
New programs tapped more influencers to help buyers make the most of market. Lindsay Rozier of @Sell_Eat_Love presented "Market Tips" and a "Retailer Spotlight" on Indigeaux Denim Bar & Boutique in Pensacola, FL. Tomeka Cherry of @CherryPickedStyle shared favorite finds from the temporary collection in "Cherry Picked Temporaries." These series plus other Atlanta Apparel trend and educational programming is available on Atlanta Apparel's Instagram (@AtlantaApparel).
Safety Remains a Top Priority
Atlanta Apparel continued its commitment to the safety of all participants by following IMC's Together Safely plan. Together Safely measures in place for the market included the required used of CDC-approved face coverings, temperature checks, contactless registration and enhanced cleaning of the building.
"The February Atlanta Apparel Market is accelerating the positive momentum IMC has felt through recovery from the pandemic," said Bob Maricich, IMC CEO. "We are proud of the efforts of our staff, tenants and exhibitors to safely and successfully present the markets retailers need to rebuild their businesses."
Pre-registration is open now for the next Atlanta Apparel Markets – April Atlanta Apparel and VOW | New World of Bridal – at Atlanta-Apparel.com/Attend/Registration. April Atlanta Apparel Marks the launch of Autumn / Winter 2021 fashions (more info at Atlanta-Apparel.com). Showrooms are open April 13 –16, 9 a.m. – 6 p.m. and April 17, 9 a.m. – 3 p.m. and temporaries are open April 14 – 16, 9 a.m. ‐ 6 p.m. VOW | New World of Bridal presents new styles for brides, bridal parties and social occasions (more information at Atlanta-Apparel.com/ VOW). Showrooms and temporaries are open April 13 – 15, 9 a.m. ‐ 6 p.m.
Atlanta Apparel's eight yearly markets feature the latest looks in contemporary, young contemporary, fashion accessories and more, plus specialty categories such as children's, plus-size, bridal and social occasion. Market information is available online at
Atlanta-Apparel.com
.