April 2021 Atlanta Apparel Market Connects Retailers to Autumn/Winter 2021 Trends
Atlanta – March 10, 2021 – Atlanta Apparel's April 2021 market, April 13-17, 2021 is the nation's most comprehensive destination for retailers to discover and source Autumn / Winter 2021 trends in person this spring with 2,500+ lines, in both permanent showrooms and temporary exhibits, including a record number of shoe resources plus expanded trend programming, all presented with new Atlanta Apparel branding.
"Our new tagline – Connecting Culture & Commerce – says it all: Atlanta Apparel is making all of the right connections this April. Our brands have the trend-driven product buyers want and we can connect them like nowhere else," said Caron Stover, International Market Centers (IMC) senior vice president of apparel. "The overwhelming recommitment to the market by brands and buyers is a testament to the value of our markets."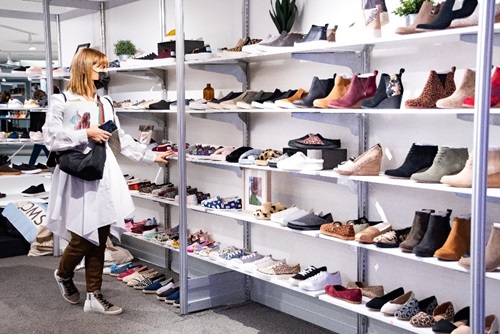 A buyer explores new introductions by TOMS, one of the record shoe resources
at the April 2021 Atlanta Apparel market.
Autumn/ Winter 2021 Trend Exploration
To facilitate sourcing and shopping, Atlanta Apparel's in-house fashion office releases a definitive semi-annual trend forecast previewing the next season's colors, prints and styles.
Versatility and adaptability are the defining elements of Autumn / Winter 2021 fashion trends, noted Morgan Ramage, Atlanta Apparel Fashion Director. "Consumers will be looking to create longevity and comfort in their wardrobes as they embrace prolonged 'stay at home style.' Everyone will be on the hunt for that perfect Zoom sweater into early next year," she explained.
Must-have products include athleisure pieces, blanket coats, cardigans, column skirts, hats, jersey dresses, perfect sets (matching two-piece sets) and shackets (oversized shirts that function as jackets). Shoes take direction from a growing interest in outdoor living and homebound lifestyles with key styles including Chelsea / lug-style boots, clogs, cozy slippers and stylish sneakers. In accessories, movement is toward classic, seasonless and multifunctional pieces. Jewelry trends include beaded bracelets, charms, chunky gold jewelry, hoop earrings and necklaces for layering, plus totes, duffel bags and handbags as key accessory items. Chic face coverings will remain important through the fall.
"Strategic color choices are essential for cost-conscious consumers," added Ramage. As such, key Autumn/ Winter 2021 colors are rich neutrals, steel and bright blue, dark greens and berry/ plum accents.
Atlanta Apparel explores these trends through a series of virtual events on its IGTV channel. Trend experts from WGSN share an Autumn / Winter 2021 Trend Forecast the day before market, April 12, at 10 a.m. At-market trend programming includes a virtual Fashion Show showcasing looks from across the market at 4 p.m. on April 15 plus daily Sips & Snaps fashion events at 2 p.m. April 14-16. Ramage will lead Trend Insight sessions digging into key styles at 8 a.m.; Tomeka Cherry of @CherryPickedStyle will share her picks from the temporaries in Cherry Picked Temporaries at 10 a.m.; and Mireille Beckwith of @CityPeach will share favorite finds from the showrooms in Fashion Insider at noon each day of the market. Additional programming includes Retailer Spotlight presented by Lindsay Rozier of @Sell_Eat_Love featuring Gigi's of Bluffton, SC on 4 p.m. on April 12.
Brands are Back with New Collections
Atlanta Apparel's April trade show features a repeat of the record-breaking Young Contemporary offerings at the February market, with some 160+ top brands showing full collections, plus an at-capacity shoe category with some 65 lines. Set for April are women's trend-driven apparel lines like Fate by LFD, HYFVE, Mustard Seed, New Vintage Wholesale, Umgee and many more. The sold-out shoe collection includes well-known designers Chinese Laundry, Jeffrey Campbell, Matisse, Sam Edelman, TOMS plus boutique brands like Vintage Havana.
Jewelry and accessories are expected to have a strong market with some 500+ lines presented across showrooms and temporaries. Resources range from jewelry (Enewton, Julie Vos) to handbags (ABLE, Hobo) to lifestyle items (Jaded Gypsy, Katie Loxton). Augmenting the order-writing resources are some 100+ cash & carry fine jewelry, apparel and accessories showrooms.
Atlanta Apparel's denim resources are primed for Autumn / Winter 2021 selling, with some 85 brands. Notable among them are 7 for all Mankind, Boyish Jeans, Hudson Jeans, Joe's Jeans, Judy Blue, PAIGE and Pistola.
Atlanta Apparel presents women's, men's, and children's fashion on 10 floors in AmericasMart Building 3. The 300+ temporary brands are organized on four floors as: Premiere Contemporary Apparel, Shoes and Accessories on Floor 2; Women's Apparel, Shoes and Jewelry & Fashion Accessories on Floor 3; Young Contemporary on Floors 4 and 5. The 300+ showrooms are on six floors: Fine Jewelry on Floor 6; Cash & Carry on Floor 7; Accessories and Shoes on Floor 8; Women's Contemporary on Floors 9 and 11; and Children's apparel and accessories on Floor 13.
A full list of market exhibitors is at Atlanta-Apparel.com/exhibitor/exhibitor-directory.
The April Atlanta Apparel Market is co-located with VOW | New World of Bridal, (April 13-15, 2021) which presents nearly 75 showrooms and temporaries with styles for brides and their bridal parties plus prom, homecoming, evening, quinceanera, men's formal and more. Exclusive virtual programming includes the Mon Cheri Academy.
For the April 2021 Atlanta Apparel market, showrooms are open Tuesday, April 13 to Friday, April 16, 9 a.m. – 6 p.m. and Saturday, April 17, 9 a.m. – 3 p.m. and temporaries are open Wednesday, April 14 – Friday, April 16, 9 a.m. – 6 p.m. Pre-registration is open now at Atlanta-Apparel.com/Attend/Registration.
April marks the debut of all-new Atlanta Apparel branding, logo, tagline – "Connecting Culture & Commerce" – and creative direction. The new brand identify will be brought to life in person at the market and virtually through the new dedicated Atlanta-Apparel.com, Atlanta's Apparel's social channels and the mobile app.
Atlanta Apparel will continue its commitment to safety with IMC's Together Safely measures including the required used of CDC-approved face coverings, temperature checks, contactless registration and enhanced cleaning of the building. Free parking is available in a lot connected to the building and shuttle services will offer door-to-door transportation between AmericasMart Building 3 and downtown Atlanta hotels.
Atlanta Apparel's eight yearly markets feature the latest looks in contemporary, young contemporary, fashion accessories and more, plus specialty categories such as children's, plus-size, bridal and social occasion. Market information is available online at Atlanta-Apparel.com.
About International Market Centers: International Market Centers (IMC) serves as the center of commerce for the wholesale furniture, gift, home decor and apparel industries. With more than 20 million square feet of premium wholesale showroom space in High Point, N.C., Las Vegas and Atlanta, IMC has more than 60 years of relationships and experience creating scalable business platforms for wholesale commerce. With the launch of IMC's Digital Innovations division and the Juniper suite of digital sales and marketing solutions and B2B ecommerce marketplace, IMC now provides the only omnichannel sales and marketing platform that seamlessly connects physical and digital wholesale commerce. www.imcenters.com.