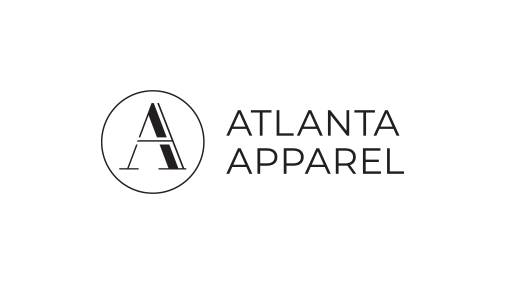 Atlanta Apparel Breaks Records at First 2022 Market
Largest-Ever Temporary Exhibits; Highest February Market Attendance since 2016
ATLANTA – – Atlanta Apparel's first 2022 market broke records for largest-ever number of exhibitors and largest retailer attendance at a February apparel market since 2016. The apparel sourcing event continued upward growth across all categories in both temporary exhibits and showrooms, with reports of exhibitors showing and buyers sourcing elevated amounts of Fall inventory, February 1 – 5 at AmericasMart Atlanta.
"Atlanta Apparel kicked off 2022 with a bang – the positive energy carried throughout all 11 floors of permanent showrooms and temporary exhibits," said Caron Stover, International Market Centers (IMC) SVP, apparel. "Orders were being written throughout the building and trend education was highly attended, further establishing Atlanta as a leader in the wholesale apparel landscape."
Atlanta Apparel showcases temporary exhibit expansion for second time
Attendance at the February apparel market has more than fully recovered, growing some 10% over February 2021, and totalling retail visitors in numbers not seen since Atlanta Apparel's last record-breaking attendance market. International Market Centers (IMC) welcomed a more diverse geographic range of buyers this February than in recent years with continued gains from the Northeast, alongside Atlanta's solid attendance from the Southeast, Midwest, Southwest, and International.
Largest-ever showroom and temporary exhibit resources
Atlanta Apparel exceeded historic resource numbers this February as it showcased its largest-ever brand collection with 60+ newcomers among the market's 400 temporary exhibits and 500+ permanent showrooms.
Place Showroom, which relocated and expanded its showroom of 28 women's apparel, social occasion, shoes and accessories brands, noticed a positive impact on business in the new and larger location.
"The market was fantastic and probably our best to date. We had a great turnout, lots of appointments, and buyers loved our new showroom," said Maria Pozza, sales manager. "We saw more new clients than we have in the past and we had sales on every line in the showroom."
Atlanta Apparel buyers sourcing for children's and early Fall styles
Buyers came to Atlanta Apparel from far and wide in search of new clothing, accessories and shoes for Spring / Summer, especially in the popular children's category, "mommy and me."
Whitney Byrd of Ollie Cate children's and women's boutique in Daphne, Ala., visited Atlanta Apparel for the first time for the February Market and said her sourcing trip was "the perfect timing in the best location for our business."
"I heard great things from several people I know about Atlanta Apparel. We were able to source our most requested items, summer toys, swim and towels, sibling sets and mommy and me," said Byrd.
Robin Siegel, owner of Siegel's Clothing, a store for men's, women's and children's apparel in Winter Park, Fla., visited Atlanta Apparel to shop the latest trends for both Summer and Fall.
"I love coming to Atlanta because of the Southern hospitality. Everyone is so friendly, and it is a perfect destination for shopping," said Siegel. "This market, I was looking for Fall lightweight clothes and fun casual dresses, and we found lots of wonderful looks."
A number of children's brands reported strong business with healthy order writing for full collections including apparel, accessories and décor on floor 13, which presented 25 Children's temporary exhibits alongside the 65 children's showrooms showcasing a full range of apparel, shoes, accessories and décor.
Lisa Morris, owner of LE LA LO, a modern "mommy and me" apparel and lifestyle brand that moved to the Children's temporary exhibits from the women's apparel neighborhood, showcased her entire collection and noticed higher sales volumes.
"The show was amazing. This is our first time showing on the Children's floor and I feel really good about it. I feel like our customer resides here," said Morris. "We're up day-to-day and our orders are bigger. We're a lifestyle brand and in Children's at Atlanta Apparel, buyers have wanted everything in our line."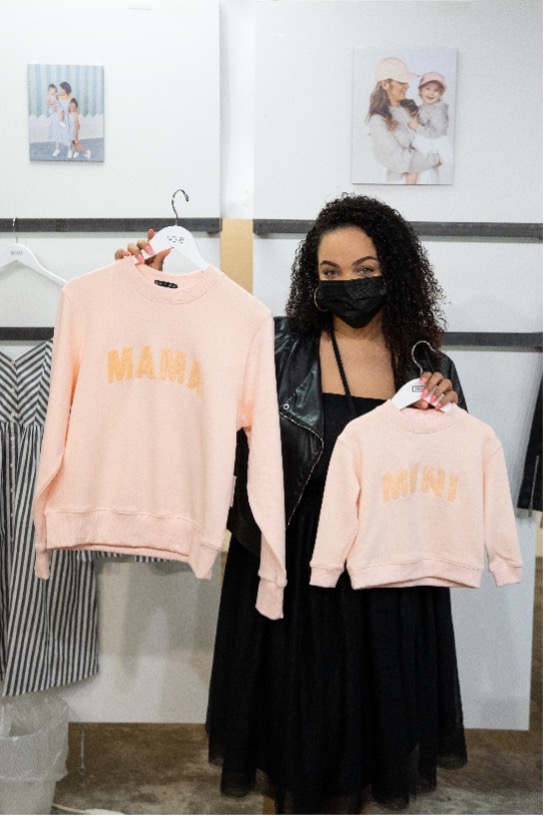 Morris shows off the LE LA LO "Mommy and Me" sweatshirts
To get ahead of industry-wide delays in sourcing, many Atlanta Apparel exhibitors were showcasing both Spring/Summer immediates as well as early Fall collections in all categories.
Cary Hack, sales representative at Marc Fisher Footwear reported more buyers sourcing for Fall than ever before.
"We surpassed our October Market sales on day one," said Hack, who reported buyers interested in immediate orders for casual sandals, dressy sandals and pumps and placing early orders for Fall boots. "I'm surprised to have so many Fall orders because usually retailers are buying immediates. Our sales ended up being about 50/50 for immediates and Fall."
Attendance and energy remained high at market educational seminars and events
In-person education and market events kept the positive momentum during the five-day buying event, which began with outstanding attendance at the co-located live model trend demonstration and PANTONE Colors of the Year market party on Wednesday, February 2. The momentum continued through packed Mid-Day Soiree daily educational sessions, including the JuniperMarket by IMC session, in which buyers learned more about IMC's newly launched B2B ecommerce platform.
"Buyers and suppliers are ready to return face-to-face to celebrate the apparel industry, to network and to learn about trend direction," added Stover. "Our first market of 2022 had incredible turnout and feedback, and we're expecting April to raise the bar even more."
The next Atlanta Apparel Market is April 11 – 15, 2022 (temporary exhibits April 12 – 14) at AmericasMart Atlanta. Both temporaries and showrooms will be open for an earlier date pattern to accommodate religious holidays later in the week, with all exhibits opening together on Monday, April 11. Temporaries will run Monday through Wednesday, and showrooms will be open Monday through Friday. International Market Center's (IMC's) five Atlanta Apparel markets feature the latest looks in contemporary, young contemporary, women's modern, shoes, fashion accessories and more, plus specialty categories such as children's and plus-size. Las Vegas Apparel is Atlanta Apparel's semiannual West Coast fashion sourcing market. VOW Bridal & Formal presents categories including bridal, mother of the bride, wedding party, special occasion, quinceañera, men's formalwear, accessories and more, three times per year. The annual World of Prom & Social Occasion is the nation's largest prom, pageant and social occasion fashion market. For information, visit www.atlanta-apparel.com and www.lasvegas-apparel.com.
About International Market Centers: International Market Centers (IMC) serves as the center of commerce for the wholesale furniture, gift, home decor and apparel industries. With more than 20 million square feet of premium wholesale showroom space in High Point, N.C., Las Vegas and Atlanta, IMC has more than 60 years of relationships and experience creating scalable business platforms for wholesale commerce. With the launch of Juniper, a fully integrated omnichannel B2B commerce solution and multiline B2B e-commerce marketplace empowering buyers and sellers to better manage and grow their business at markets and year-round, IMC now provides the only omnichannel sales and marketing platform that seamlessly connects physical and digital wholesale commerce. For more information, visit www.imcenters.com.
###
MEDIA CONTACTS:
Amanda Merritt
amerritt@imcenters.com
Cathy Steel
cathy@cathysteelassociates.com
Tag:
Februrary Atlanta Apparel
Press Release