Webinar Offers Expert Advice on How to Take Advantage of the Hot Housing Market
IMC/Juniper Hosts "OUT OF THE BOX DESIGN OPPORTUNITIES" on Wednesday, August 24
ATLANTA, August 16, 2022 – Juniper is set to host an "Out of the Box Design Opportunities" webinar, addressing the benefits, challenges and revenue potential of year-round design opportunities – such as holiday and seasonal, vacation rentals and staging – on Wednesday, August 24 at 2:00 p.m. ET.
"JuniperMarket is a valuable 24/7 sourcing tool for interior designers aiming to capitalize on the red-hot housing market by adding or expanding year-round design and home staging services," said Bill Furlong, Juniper CEO. "JuniperMarket's depth and breadth of home décor, furniture and seasonal SKUs provide designers with a unique opportunity to source and shop from trusted brands between in-person markets."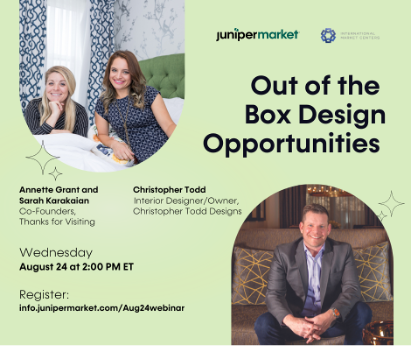 "Out of the Box" Design webinar panelists include Christopher Todd, whose background in special events, floral design and interior design led to his current ownership of both Christopher Todd Design and Christopher Todd, a retail store in Henderson, NV; and Annette Grant and Sara Karakain, co-founders of Thanks for Visiting, a company devoted to educating the future of short-term rental owners on proper design and hospitality practices.
Speakers will address topics such as current design trends, challenges in staging and how client and designer roles have shifted in the past two years. Also discussed will be the differences in larger and smaller home design projects and managing project time frames and deadlines. Diane Falvey, Editor-in-Chief of Furniture, Lighting & Décor will moderate. Participation in this 60-minute session is free, and pre-registration is required. To register, visit https://info.junipermarket.com/Aug24webinar.
Launched in January 2021, JuniperMarket is a multi-line B2B ecommerce platform powered by International Market Centers (IMC), which allows home décor, gift, furniture and apparel buyers and sellers to connect anytime and anywhere. JuniperMarket features a breadth and depth of gift, home and lifestyle product from many of the most trusted brands in the marketplace. New sellers and new products are added daily to JuniperMarket, keeping offerings fresh year-round, and enabling buyers to diversify assortments and maintain a competitive edge.
About Juniper: Juniper is a fully integrated omnichannel B2B commerce solution and multi-line B2B e-commerce marketplace, empowering buyers and sellers to better manage and grow their business at markets and year-round. Juniper offers a sales automation and commerce platform (JuniperCommerce) combined with a new multi-line B2B ecommerce marketplace (JuniperMarket) that together empower sales teams, streamline product data management and deliver real-time visibility across channels – driving business efficiency and growth for buyers and sellers. Juniper is powered by International Market Centers (IMC), the world's largest owner and operator of premier wholesale showroom space for the furniture, home décor, gift and apparel industries with more than 60 years of relationships and experience creating scalable business platforms for wholesale commerce. For more information, visit www.JuniperCommerce.com.
###
Media Contact
Cathy Steel, 203.340.9251 or cathysteel@cathysteelassociates.com